Providing adequate cabinet space for your kitchen will add more functionality with efficiency. The kitchen is the heart of your home. Whether you have a small family or a large one, your kitchen hosts all your gatherings. So consider the essentials that make your kitchen an ideal and functional space.
A kitchen without cabinet doors is like a car without an engine. There are plenty of materials for you to make your custom kitchen cabinets. These materials include wood, plastic, metal, and a combination of these things. We also do an attractive kitchen cabinet door insert to our clients' kitchen remodeling project for something unique. When it comes to kitchen decorating ideas, one of the most functional categories to apply is perforated metal cabinet door inserts.
How to Choose New Door Insert Material?
Kitchen cabinets are the most important part of any kitchen layout and design. It not only adds value but also enhances the beauty of your kitchen. You've decided to change your interior door knobs and want to know how to choose new door insert material? There are many types of material to choose from when building a new door. The first thing to consider is what door style you have now or would like to have. Many exterior doors have a contemporary look with clean lines, and many have an antique appearance. 
Choosing the right type of material for the cabinet door styles will depend on the details of your outer door. When choosing new door insert material, the next step is to decide what color you want. Colors such as white, black, natural, brown, and silver can all be used for your door, and you should do some research and see which ones you like the best. 
If you have a door, which is not in excellent shape or want to change the color to something different, consider using wood. Wood is one of the most inexpensive materials to work with, so you can make this a budget-friendly project. Consider a smooth surface wood material that will be great for painting and resistant to cracks, peel, and stains. 
Check out these decorative cabinet door inserts for better insights. Likewise, you can adapt these designs to make your small kitchen cabinets more appealing.
Don't Miss To Check Our Popular Brands
Wire or Metal Cabinet insert:
Inserting wire mesh into your cabinet doors exhibits a homey feeling.  These wires can be dove or chicken wires with varying holes. Like glass, you can readily look past through and check what is inside your kitchen cabinet. 
There are several styles to choose from when it comes to creating a kitchen look, but for something a little bit more unique, perforated metal cabinet door inserts may be just what you need. This is a good choice for a small kitchen redo because it increases the spacious feel inside your area. Moreover, it is an economical material to spruce up your custom kitchen cabinets.
Glass Cabinet Inserts
This is a timeless choice for those doing small or large kitchen redo. Having a glass kitchen cabinet door allows you to see through the inside. This is an excellent choice for a small kitchen renovation to have a facelift of your cheap kitchen cabinets.
Consider incorporating the metal cabinet door inserts with the combination of glass. There are so many choices you can consider, such as transparent glass, frosted glass, textured glass, seeded, and sunglass. 
Rattan Cabinet Inserts
Choosing rattan as your door inserts is a wise choice to add some nostalgic feeling. Despite being used for outdoor cabinets, still, it is a winner for exotic kitchen cabinets for this modern period. Rattan's natural texture and fiber lining add natural warmth and an earthy feel to your small kitchen remodeling.
Mullions Cabinet Inserts
When you opt for glass pan cabinets, consider our delicate range of mullions decorative cabinet door inserts that are both functional and ornamental. These cabinets feature glass panels instead of wood and other material. 
Aside from being a good support structure, these vertical bars can give your modern kitchen cabinets a creative touch. Mullions can be made from different materials such as metal, copper, and wood.
Like wire mesh, mullions exhibit a nostalgic ambiance in your kitchen remodeling project. It has good contrast with other modern accents and designs inside your kitchen.
Different Types of Kitchen Cabinet Doors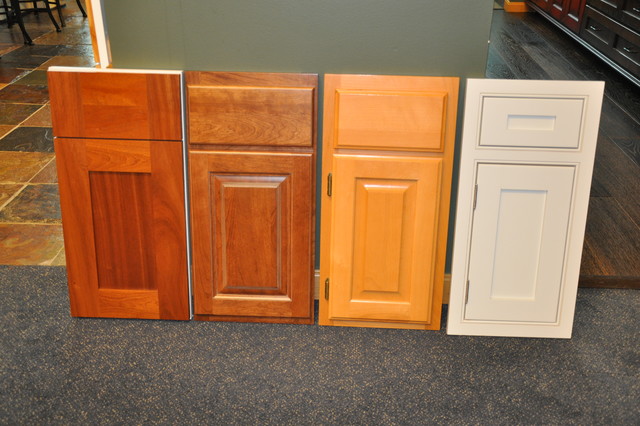 Aside from cabinet door inserts, we can provide you with tons of options for the design and style of your custom kitchen cabinets. You can never undermine the beauty that kitchen cabinets and the cabinet door insert ideas to add to the overall appeal of your newly renovated kitchen.
Below are some of the modern kitchen cabinets we install in different households.
1. Affordable and Classic Shaker Kitchen Cabinets
The typical wood materials used for this include cherry, oak, and maple. Its timeless beauty and earthy feeling soothe well with your modern kitchen theme. It offers a warm contrast with the cool colors and countertops you have in your kitchen.
2. Kitchen Cabinets with Beadboard Door Inserts
This is a good upgrade with your typical shaker style kitchen cabinets. The beadboard cabinet door inserts provide extra support and a nostalgic feel in your kitchen. When everything else is modern, this one provides a warm atmosphere for your homey experience.
3. Sleek Slab Kitchen Cabinet Doors
This custom kitchen cabinet style greatly complements your sleek granite or quartz kitchen countertop. Its frameless design provides a sleek appearance with an excellent flair of modernism.
This kitchen cabinet design also complements the polished chrome-plated surfaces inside your kitchen space.
4. Nostalgic Wood Kitchen Cabinet with Glass Door Inserts
For those who want to retain the countryside feel inside their kitchen, we install wooden kitchen cabinets made from solid wood. Nevertheless, glass door inserts are installed to a flair for a contemporary look. This is beneficial for those with small kitchen redo.
Conclusion:
These are the famous cabinet door ideas that can make your kitchen captivating and praiseworthy. One of our best strengths is installing kitchen cabinets that provide a great facelift in your kitchen remodeling. Moreover, we handle the fabrication and installation of granite and quartz kitchen countertops. Bathroom vanities are also one of our expertise in this industry. 
Some of the best brands for kitchen cabinets that we offer to our clients include Forevermark, J&K, Schrock, and Aline. If you need professional assistance with your custom kitchen cabinets, don't hesitate to contact us today.
We will be there for you from start to completion of your kitchen and bathroom remodeling projects.